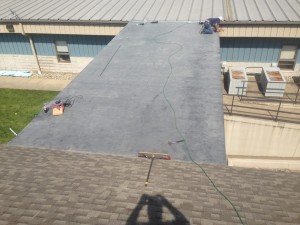 Low-slope facility roofs need greater weather protection than high-pitched roofs. Rubber roof installation involves the application of single-ply ethylene propylene diene monomer (EPDM), which delivers a tough waterproof roof surface. After a professional installs a rubber roofing system, you can expect your new roof to last for decades without deterioration. The rubber remains flexible, even during frigid weather, and installation costs are budget-friendly.
The Benefits of Installing an EPDM Roof
The best test of any rubber roof installation is how well it performs under day-to-day conditions. Field studies indicate EPDM is among the most durable choices for low-slope roofing. Key benefits of this type of roof installation include:
UV resistance
Thermal shock durability
Ozone and weather resistance
Superior wind uplift resistance
Intensified tensile strength
Hail resistance
Accommodates structural movement
Fire resistance
Another advantage of a rubber roof install is the wide variety of available application methods. EPDM can be fully adhered, ballasted or mechanically attached, making it suitable for nearly every facility design or purpose. EPDM is, dollar-for-dollar, one of the best values in low-slope roofing systems.